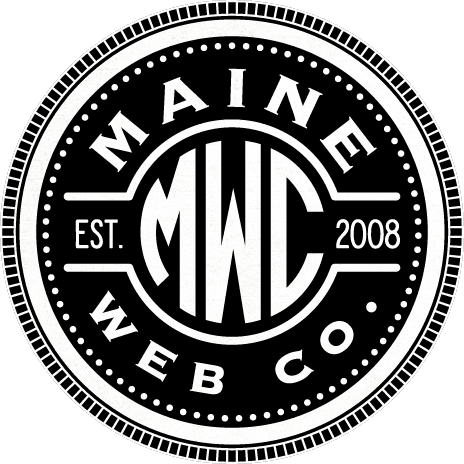 Design. Build. Brand. Market.
Building websites that work since 2008. Maine Web Co. partners with your company to create visually stunning websites that not only look amazing, but drive customers and therefore sales & business that may have been lost to your competition. We are a Maine based website developer however we serve companies across the country in Healthcare, Food Service, Wireless Communications, Construction, Real Estate, Hair & Beauty Salons, Travel and Resorts.
We specialize In WordPress Website Development.
Maine Web Co. provides custom web development to small businesses, brands, and professionals. We are WordPress experts committed to designing responsive websites that engage your customers, stimulate traffic, and cultivate your brand. We build value and help our clients to achieve their unique business goals by connecting sustainable technology, clean design, and exceptional service. Explore our web design, e-commerce solutions, logo design, SEO and specific brand identity.
Need Something Custom?
You Dream It, We'll Build It.
IS YOUR WEBSITE MOBILE FRIENDLY?

With Search Engines Ranking Websites Based on Mobile Friendly Design ~ It's Time to Go Responsive!
MAKE SURE YOUR WEBSITE IS MOBILE FRIENDLY & RESPONSIVE
Google gives priority to a website that is mobile friendly. 70% of mobile searches lead to an action within an hour. How much convincing do you need to make sure your website is mobile friendly?
We are a digital marketing firm that specializes in web design. We create beautiful design, great websites, and provide professional marketing services.
Armand's Auto Body Shop
Auto Body Shop in Lewiston, Maine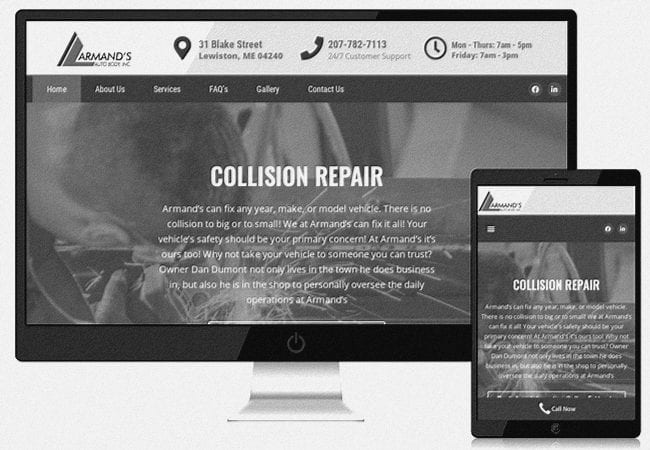 Web design is part art, part science, as it perfectly melds together a designer's creative eye with the coding skills of an online wizard. That's one of the more difficult aspects of web design and marketing; it takes both technical knowledge and soft skills to make a website that is exactly what search engines AND users need.
Most businesses need web development and management that is tailored to their unique situation, industry, aesthetic, and needs.
Maine Web Co. is an industry-recognized expert in website development and management! We work closely with our clients to understand their value propositions, website pain points, web design needs, and business models to maximize their web design projects!
Mailing Address
Maine Web Co.
6 Harpswell Harbor Drive
Harpswell, ME 04079